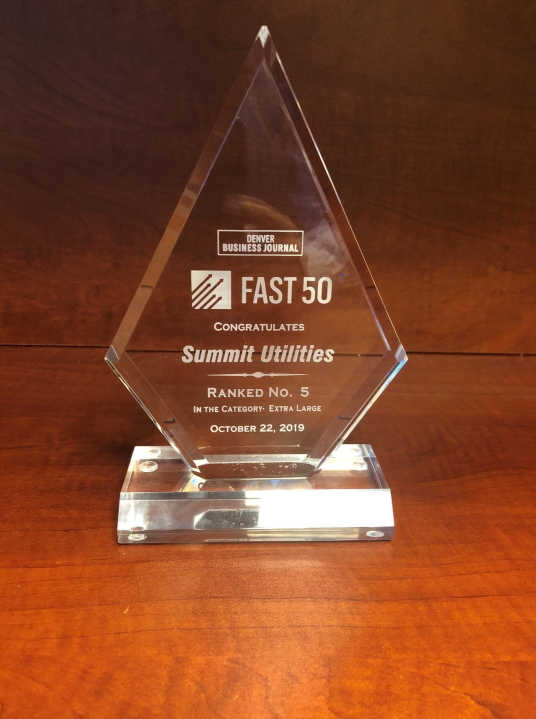 Summit Utilities Named 2019 Fastest Growing Denver Area Private Companies
October 25th, 2019
Summit Utilities Ranked 5th Fastest-Growing Companies in the Denver Area
Littleton, Colorado – Summit Utilities was recently named as one of the 2019 Fastest Growing Denver Area Private Companies in the extra-large category.
Summit Utilities was recognized on October 22 at an "out of this world – space themed" cocktail reception hosted by the Denver Business Journal where Summit was ranked the 5th fastest growing Denver-area private company in the extra-large category.
The Denver Business Journal ranked the 2019 Fast -50 list of the regions' fastest-growing privately held companies based on their percentage of revenue growth for fiscal years 2016, 2017 and 2018. Summit Utilities revenue growth was 99% during that time period.
"We are extremely honored", said Steve Birchfield, EVP & Chief Financial Officer of Summit Utilities, Inc., "Summit's unwavering commitment to success has enabled us to grow providing natural gas to rural markets other utilities simply will not serve. We take our responsibility of being a good corporate citizen seriously, that is why being a good friend, community member, employer, and small utility provider is at the heart of what we do".